home
Business Introduction
Expansion of Talent Development
Sunny China
Sunny China
Sunny China is a program that continuously helps people practice happiness based on their own choosing through various
types of education and activities. The program aims to help people grow into talented individuals who will change society.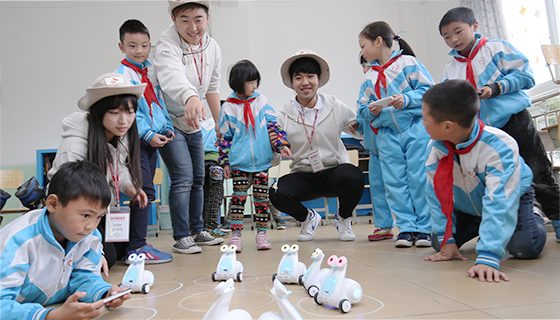 Sunny China
Sunny China is a volunteer group for Chinese college students currently located in Beijing, Shanghai, Sichuan, Shenzhen, Jiangsu, Guizhou, and Jilin. The program was launched in 2010 to spread the volunteer culture in China and foster open talent.
Period of Activity

January to December (every year)

Number of Active People

1,500 people per year

Activity Areas

Total: Seven regions and 27 universities Beijing / Shanghai / Sichuan / Shenzhen / Jiangsu / Guizhou / Jilin (seven regions and 27 universities)
Promotional Business
Leader Group

Sunny China aims to help people grow into social innovators who will lead social change in China by playing key roles in analyzing social problems in each region, planning volunteer programs, and recruiting and managing volunteers.

Volunteer Activities

Sunny China is interested in finding solutions for social problems in China to create the following:

Happy children without educational discrimination.
A happy city free from pollution.
A happy society where people do not suffer from poverty.
A happy world without the limits of imagination.

Global Sector

Joint programs such as the Global Happy Novator Camp held by the Republic of Korea and China have helped Sunny China upgrade our case studies to share excellent examples from both countries and solve social problems.

Social Innovation Sector

Sunny China runs the SK Social Innovation Challenge to nurture talent and promote social innovation. Sunny China is leading the promotion and spread of social innovation and social enterprises throughout China.